The mission of the Avnu Alliance is to leverage the power of industry minds, and together to enable an ecosystem of interoperable, secure, low-latency and highly reliable networked devices using TSN.
Avnu facilitates product certification and testing to ensure interoperability and promotes open standards for deterministic networking, such as TSN
Over a decade of experience developing conformance specifications, tools, and test plans across markets based on accepted TSN requirements
Global member companies across multiple industries
Promoter members benefit from participation in pre-certification plugfests, face-to-face and regular workgroup meetings, specific market and technical subgroup participation, to drive important technical updates to meet market requirements and assure certified products will be interoperable with those of other vendors.
Avnu Alliance members also benefit from having their products and companies showcased at industry trade shows and conferences, in case studies, as part of Avnu Alliance press coverage, on social media, and more.
Let's go build broad, diverse TSN ecosystems together. Join the Avnu Alliance today.
Membership Benefits
Avnu Alliance brings together all the perspectives in the value chain, from infrastructure providers, to silicon and component vendors, to end device manufacturers. Members collaborate to create the current and future requirements for an interoperable One TSN ecosystem, ensuring end devices and controllers coexist in a heterogeneous environment enabling converged networks to deliver data needed for industry digital transformation.
Silicon vendors, network infrastructure and device manufacturers can join Avnu to leverage the community investment and collaboration within Avnu and grow the TSN ecosystem. Avnu offers various levels of membership options to best suit your company's goals.
Currently there are Promoter and Adopter memberships providing various benefits and levels of participation.
New in 2020! Milan Associate Membership
Avnu Alliance has released a new Milan Associate Membership Level to give companies a lower cost path to certifying and registering Milan devices. To broaden the Milan ecosystem and increase end device adoption of Milan, Avnu Alliance has also approved a Milan Module certification mechanism. Manufacturers choosing to implement Milan-certified modules into products can join at this new level to register those products as Milan-certified.
Please download the Milan Associate Membership one-pager and see the FAQs for more specifics on the Milan Associate Membership.
NOTE: Switches for Milan are AVB switches. Certification of AVB switches (i.e., switches with more than two ports) is not covered by the Milan Associate Membership.
Avnu Membership Options and Core Benefits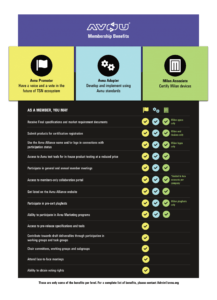 Certification
The Avnu Alliance certification program is open to member companies, allowing them to give customers the confidence that their certified systems have passed rigorous compliance and interoperability testing, reducing tech support costs.
Don't wait until after you've already integrated TSN into your product, join the movement now to have your unique development requirements met. Avnu Alliance members are given a rich set of tools to help build TSN devices including access to specifications, test devices, and conformance tools that help refine and accelerate product development before entering the formal testing and certification program.
Questions about certification? Click here to view FAQs about the new Avnu Advanced Certification Program.
Looking for more information on Milan? Head to avnu.org/Milan for details.
How To Get Started
Step 1:
Reach out to administration@avnu.org for participation agreement and other membership materials. We can also put you in touch with a member representative if you have specific questions about which membership level you should choose.
Step 2:
Return appropriate participation agreement along with annual membership dues to address below